At ease, Cadets; we hope everyone is having a peaceful and safe Memorial Day weekend. Today, let's talk a little about the searing, excruciating pain of missing the narcissist.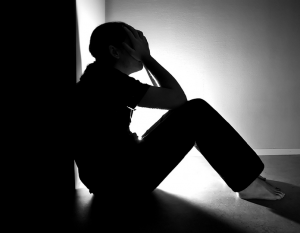 Why on Earth can a brilliant, attractive, capable gal give birth to twins, or perform brain surgery, or nurse a beloved family member in their last days, and get through it with flying colors, but when she breaks up with a narcissist, it can feel like she's had multiple organs removed by someone shoving their hand into her torso like Castiel in Supernatural fishing around for Bobby Singer's soul, and now it's infected and she's bleeding internally? No, you're right — a break-up with a narcissist can hurt much more than that.
If the break-up has happened to you, maybe you're feeling like the only way to abate the pain even a little is to reconcile with the toad. Or at least talk with him. Tell him how you feel, and make him explain himself. See if there's hope for the both of you, and if he wants to change.
Now, let's do a brief exercise. Let's close our eyes, and picture you going out and buying yourself a blow-up doll. You know, the kind they sell at those stores in New York that have signs in the window advertising "rabbits". You take the blow-up doll home, and inflate him. Then, take a Sharpie marker and add on any facial hair or tattoos the narcissist might possess, and dress him in the ex's clothes.
Here's where it gets good. Now, picture yourself driving around with the blow-up doll in the passenger's seat, and you beaming with happiness and serenity. Envision walking into a cafe, and sitting him in a chair at your table, and ordering yourself a glass of wine and one for your plastic, air-filled friend. How are you feeling? Connected? Proud to be seen with the blow-up doll? Loved? Hopeful the relationship with the doll will grow?
Allow us to go out on a limb here, and wager a guess you might be feeling none of those things. You might feel absurd, ridiculous, empty, pathetic, stupid, embarrassed, and like you'd better leave the cafe before someone takes your picture with your companion and posts it on an unflattering website. Or looks at you with concern and asks you if there's someone they can call for you.
And so we get to the point: You're at risk of being awash with every single one of those feelings if you ever made up and returned to the narcissist, and for exactly the same reasons: The narcissist is empty, pretend, and embarrassing to be seen with. He doesn't love, or connect, or empathize; he only takes up space and frustrates you by not being able to relate to you like a real person. He's an attention addict, and attention from anyone, anywhere, is far, far more important to him than normal relationship time will ever be.
If the narcissist has recently toddled off, that devaluation hurts. It hurts a lot. You might feel like you're going crazy. You're not; in fact you dodged a bullet. And while you heal, give your kids, the dog, your healthy family or friends all a hug. Those hugs will be far more real and meaningful than anything the narcissist ever could pull off, and your assignment is to let yourself feel it.